Jordan Springs East

Jordan Springs community plans consist of 1,300 new residential lots together with commercial/retail facilities, parks and open space.
Once the scale of the project was fully understood it wasn't long before a surveyor was needed on site full time. We assisted in the design of deep excavations for Menai Civil to achieve safe, efficient and cost effective Benched Earthwork Excavation up to 11 m deep. We are also providing accurate regular Alignment and Setup Surveys for the underground Boring System achieving highly accurate results over long distances underground.
TSS has been responsible for all site set-outs to date and for all subcontracting crews – stormwater, sewer, culverts, pavements, kerbs, retaining walls, underground services. We are also providing the client with ongoing GPS models, volumes/reports, calc's of design info.
EW1, EW2 and EW4 were the first earthwork sections to be completed towards the end of 2016. Along with these was the construction of a 1.5km Connector Road linking the subdivision back to Jordan Springs.
TSS continue to push forward with aiding the client with Stormwater Redesigns where issues occur with existing Services and where the Design has not covered an area correctly, complete Design of the Main Bridge Abutment Earthworks (Design & Construct) at the client's request, UAV Flights for Particular Earthwork Volumes, Imagery and Checks. As well as regular Drafting and Calculating. EW3 is currently under construction and due for completion mid 2017.
Blacktown Hospital

Stage 1 of the Blacktown Hospital expansion project consisted of an upgraded Sterilising Department, internal refurbishment, new Multi Storey Car Park, several new hospital units and a new Digital Surgery Theatre.
TSS Total Surveying Solutions are providing initial site set up surveys to determine boundaries and benchmarks for the expansion, as well as bulk earthworks surveys during car park excavation.
Once excavation is completed, TSS will provide pre-pour and post-pour surveys for formwork and concrete floor slabs and external surveys for concrete upstands.
On completion of construction, TSS will supply as-built surveys for DA certification.
Architectural Steel Ribbons, Box Hill NSW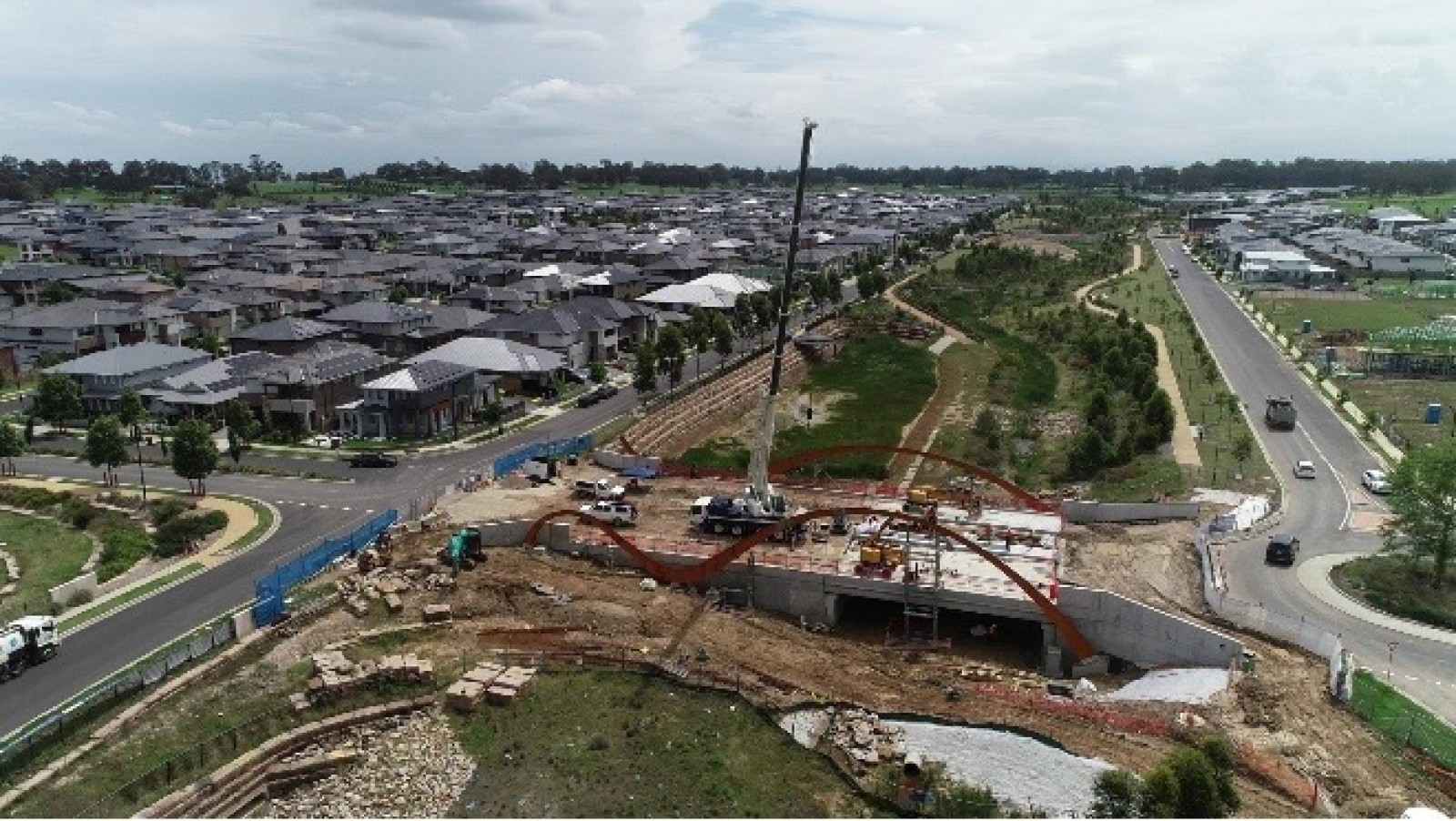 Brolton Group and Christie Civil
Not a large job but definitely one of the more complex. The steel ribbons are the two rusted feature arcs on either side of the bridge. The job initially involved an arbitrarily set out of five base plates for the steel fabricators in their workshop – this was for Brolton Group. Once these were positioned and welded off, Brolton insisted that TSS continue to manage the survey works through to the end as we were familiar with the drawings and complexity of the project. Thus, we were engaged by Christie Civil. The complexity was primarily due to the northern base plates on each ribbon being at an angle of 18.2° and 18.3°. This made for interesting discussions and calculations as both height and position were critical, especially at the multiple stages of delivery where each variation from design would impact all of the prefabricated components.
Brolton Group upon completion of the survey work, thanked TSS for their involvement in what they described as one of the easiest and smoothest installs they have had to date.
Riverside Masterplan Project, Bundanon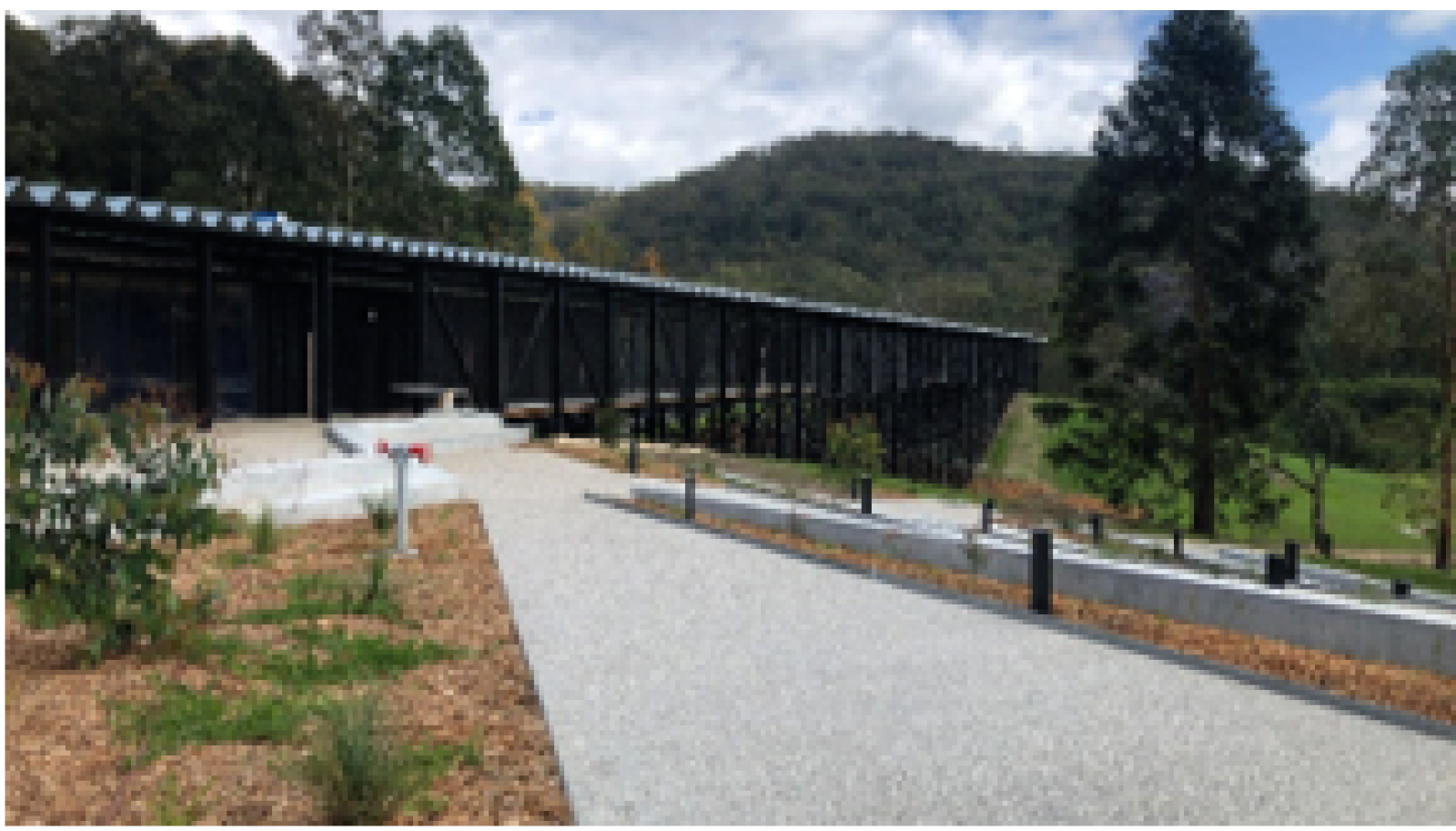 ADCO and GPM Marine

TSS were engaged by ADCO Construction to carry out all general survey works, Including checking
of structural steel erection, landscaping, services woks and set out of the art gallery. Our attention
to detail and accuracy led us to be engaged by GPM Marine for overseeing set out and in-situ checks
of construction of the jetty on the Shoalhaven River. We were also trusted to consult with the civil
contractors, JBG Civil, as they did not have dedicated surveyors, so we assisted them with set out
file conversions

The project included a cantilevered bridge extending out over a valley which houses education and
accommodation facilities and provides extensive views over the Shoalhaven River. Also, as part of
the project is a large art gallery, with an earth fill root, built into the side of a hill. This gallery will be
used to house and display priceless art works whilst protecting them from natural disasters A new
jetty was also constructed, allowing visitors to access the site via the Shoalhaven River.